The next week is going to be very interesting at Pope as we have a chance to do something that teachers rarely get a chance to do. We get to actually do something with our ideas. Now don't get me wrong, teachers do things everyday but so much of what teachers do is in reaction to stuff or more about getting through curriculum and getting through the semester. There is just rarely the time to experiment or to try something new with the support of colleagues and other educators. Truly the system has been stripped down to a what some actuary would say is the most efficient use of the limited number of minutes that a collective agreement and a calendar will allow. Well that will all change for a few teachers this week.
First is out SSLN tomorrow as 6 local elementary schools will join with some of our teachers in our Woodshop and look to create their vision of the NeXt Desk. This is a project that we kicked off a bit over a month ago where educators started to really consider their learning environment to see if their rooms were the best for learning. We considered the ideals of The Third Teacher and thought how something might look if we thought about learning first. The group was then left with the challenge of coming up with a new desk design. We all agreed that the regular school desk is not the best for learning, collaboration, descriptive feedback and creative endeavours so we want to put our money where our collective mouths are and GET OUR HANDS DIRTY to make some better desks.
This is not an exercise in which we are committing to building furniture from now on; it is chance to consider something different and then realize it. We take so many things for given in education. We take our rooms, our furniture, our roles and far too often our teaching styles as given and unchangeable that we have to break that from time to time and try something else.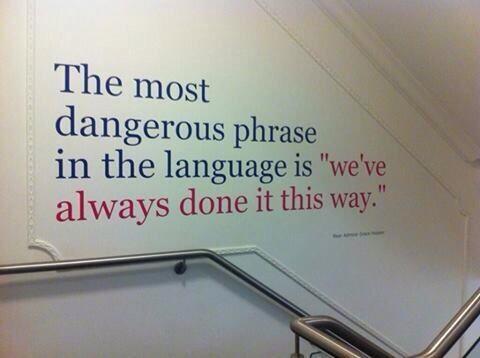 I hope the act of making these desks will give these amazing teachers a chance to consider something different. To look at their profession in a different way and to think about their learners, (this is not a teacher desk that they are designing), when they are considering their work. It also satisfies a basic need that teachers have. I think the thing that differentiates us from university professors is that elementary and secondary educators are "Practical Academics". We want to do something with the theory. We want to see the manifestation of our consternation. We need to make our ideas and philosophies tangible. Let's hope this exercise will do at least this for these teachers.
The other event that has me excited at the moment is our pilot project centring around job embedded, teacher directed PD. We have been able to gather a handful of release days from Central to pilot an idea that our 21st Century Steering Committee came up with. I am a firm believer that PD is so important but time and funding is so scarce that PD has to be great and impactful. I also feel that this can only happen if the participants are also the planners and the architects. Teachers have to have control over or at least input into, their PD. With this is mind, I posed the idea to our committee but genuinely had no idea what it would look like.
The result was one of the best and ongoing discussions that I have seen at the school this year. People really got into the basic idea of bringing teachers together and having them work together to co-teach one of each other's classes. The idea is to have time to plan ahead of time, and then to be in class with a colleague to observe, help and facilitate. This would be followed again by time to discuss what happened and then plan how to move forward. The focus for this event will be integration of tech into classroom practice but that is really just a context. The thing I am most interested in is the process. What will happen when you give teachers the time to reflect and work together? What will develop and how will that impact practice in the classroom?
I would be lying if I said I knew the answers to that but I would also be lying if I said I did not have an agenda here. I want to offer our board a different model. I want to show that really good PD can be cheaper and more effective than the model that has currently been used. We have to stop gathering people together for one-off sessions that lack context or reality. They lack context because they rarely include kids! When you go to a designated lab and work with "consultants" or resource teachers, you never bring kids with you. There is a sense of fantasy at these PD sessions and reality is never so neat. By embedding this PD within the classroom I hope that there will be a more direct impact of learning.
I also hope that this structure will lead to a much more viable support network within the school. By being within the school, I think that it will automatically be more viable if for no other reason than proximity. Going back to the idea of a lack of time. You cannot depend on someone to come by for a visit to offer support. By having a colleague in the school who understands your learning goals and the CONTEXT and REALITY of your class, you have someone who can help you more. Experts can always be brought in for their expertise, but they are not meant for real support. In the context of education, that can only come from one's colleagues.
Like I said, I am very excited to see how the next week goes but I know that simply engaging in the process will be worthwhile…if not a bit dirty!